This is being originated by ChristinaOehler
Snapchat is a video messaging app available to smart phones. Users are able to take pictures, record videos, add text and drawings to the photos and videos, and send them to other users of Snapchat. Each photo or video can only be seen for a period of one to ten seconds depending on the user. Snapchat has a current valuation of $10-$20 billion with Snapchat reaching 6 Billion daily views in November 2015. It has become one of the most popular platforms of social media and can be used to reach a wide range of audiences through Snapstories which allows users to share their Snapchats to a certain demographic.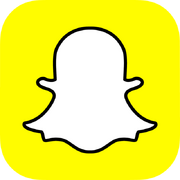 Definition and History
Edit
Snapchat was launched in July 2011. Snapchat is a phone application that allows a user to take a photo or video and send it to one or multiple other accounts. The user can set a specific length of time the receiver can view the video or photo ranging from one to ten seconds. After the recipient has viewed the Snapchat message for the allotted time, it disappears. A user may choose to screenshot the picture, but the sender will receive a notification of this action.
Critical Conversations
Edit
Further Readings
Edit
http://techcrunch.com/2015/11/09/snapchat-reaches-6-billion-daily-videos-views-tripling-from-2-billion-in-may/
Citations
Edit